It's been a busy summer at Wistia. From our the launch of Soapbox to our first-ever Storytelling Night, new projects kept us on our toes, but our focus on constantly improving the Wistia player helped us stay focused.
So for our final product update of the season, we're bringing you some handy new tools, plus improved access to your Wistia videos, no matter where you're working.
### Customize in place
If you've ever embedded a video and realized the player color or thumbnail didn't look quite the way you wanted it to, we've felt your pain. That's why we created a new way to update the look of your embedded videos.
Customize in place is a beta feature that lets you make quick changes to the appearance and feel of your embedded videos. If you're logged in, simply hover over any of your embedded videos, then click the Customize in place wand. The Customize panel will open on the page for you to make any changes to the look of your video, allowing you to see the changes within the context of the page. Plus, it's completely invisible to any viewer who isn't logged in. That's some Harry Potter-level magic right there.
To turn this beta feature on, head to your account under Account > Settings > Beta Features, and the new tool will be available to any of your logged-in users who have permission to customize. Accio Customize!
### Multi-language captions plugin
We're all about tailoring content for specific audiences. And one helpful way to make sure your viewers from across the globe get the best experience is to create multiple sets of captions in different languages.
With the new captions plugin, you can set the default language for your video's captions instead of letting the viewers browser decide. Just add a :language: tag to your embed code to set the right language for your video's captions. Your audience is going to love you that much more for it.
### Callable CTAs
CTAs and Annotation Links are 2 of our favorite tools for encouraging viewers to raise their hands and show interest in your company. In some cases, that comes in the form of a landing page or a related video. In others, you may actually want them to give you a ring to introduce yourself or explain your product in more detail.
Starting now, you can modify your CTAs to create a custom telephone link. How so? When creating a CTA or annotation link, add a tel: suffix to your phone number, then watch your hotline bling.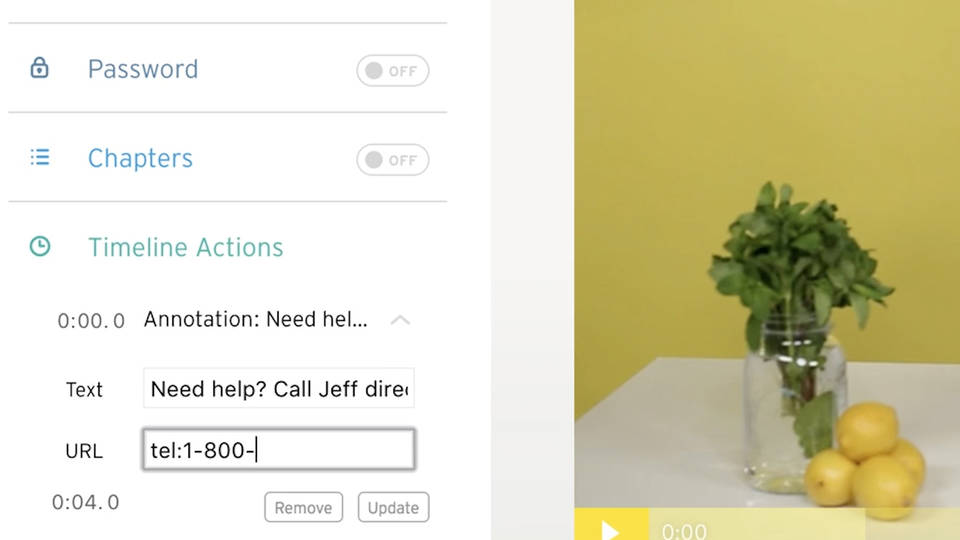 ### Wistia for Chrome
Wistia for Chrome helps you use video in all of your business tools, but until now it was limited only to Account Owners and Managers. We've now updated the way permissions work so anyone using a Wistia account, no matter their user role, can log into the Wistia for Chrome extension.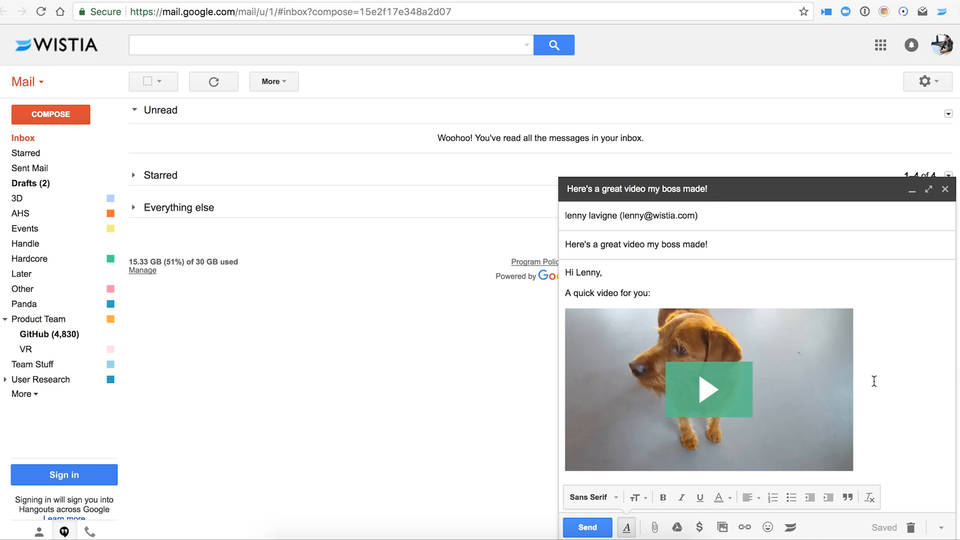 All members of your team will be able to locate and share projects they have access to, so they can get more done with video. Start putting your videos to work by installing Wistia for Chrome today!
That's all for August, but keep an eye out for the next round up of new Wistia updates and features this fall—we have a feeling you're going to like what's in store.
BETA PROGRAM
Become a Betapug!
Sign up to get notified when new features go to beta.